4801 Main Street, Grasonville, MD 21638
Frequently Asked Questions
Where are you located?
---
We are right off of Main Street/Route 18 in Grasonville, MD. If you are coming from the highway you can take 44A Station Lane and that will take you right to us! If landmarks are more your style, you can find us next to a two story white house and across from the Immanuel United Methodist Church.
---
How are the crabs running?
---
Our crabs can run pretty fast. Last time we timed them they were around a 6-minute mile! Just kidding! We apologize for the sarcasm, but this is a question we get a lot. The answer to this question relies on a variety of factors. Most of the time if you look at the weather report you can get a good idea of what's going on in the crab industry. Ask yourself, how early in the season is it? What is the weather like that day? Have we gotten a lot of rain recently? All these things affect crabs and how they are running. Crabs are inactive in cold weather, so when the water temperature is around 50-55 degrees you can count on crabs being scarce. Once it starts to warm up to around 65-75 degrees then crabbers will start to see more crabs. The best time to get the biggest, meatiest crabs is late in the season, which is September to November. If you're looking for gigantic Maryland crabs when the season opens in April then you'll be disappointed (or you'll get them and they won't be local). Essentially, we do the best we can to offer high quality local crabs. We use local trot liners from the Wye and Chester Rivers, and we keep our inventory small so we can ensure quality. But, we are not Mother Nature; there are times when crabs will be running fat and times when they are not. If you call us we are more than happy to tell you about the day's catch.
---
How do your crabs run in size?
---
In Maryland crabs are graded by their size. It can be a little confusing when ordering crabs because it seems like every seafood shack calls a #1 something different. We like to keep things easy, so we go by the size restrictions that the watermen set. Please refer to the sizes below when ordering: #1: 5 1/2 up to 6 inches #2: 5 1/4 up to 5 1/2 inches Females: 5 inches and up (This may or may not go without saying, but crabs are measured POINT TO POINT) Over the years we've had requests for the largest crabs possible. When crabs are running well we're lucky enough to offer extra-large sizing, which is 6 inches and up. We realize that some seafood restaurants grade crabs all the way up to Colossal (whatever that means...), however our largest crab size is XL. This means that one day our XL could be almost 7 inches and the next day it could run a little over 6 inches. It all depends on how the crabs come in. People can get -- dare I say it --- a little crabby when talking about crab sizing. In its heyday the Chesapeake Bay was popping out #1's that were 7 to 8 inches! There was no talk of extra large or colossal because ALL crabs were huge and heavy. Unfortunately, those days are behind us my friends and the future is looking uncertain if not bleak. We understand that crabs are not as big as they used to be, but during the season it's our goal to offer the best and biggest local crabs that we can.
---
How do you pick crabs?
---
Picking crabs is one of those things that is easier to show you rather then tell you.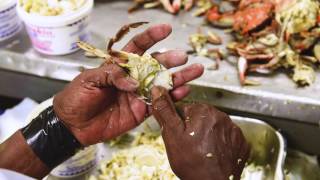 ---
What is your return policy?
---
Do to the nature of our product we do not accept returns or issue refunds or exchanges after the product has left our facility. Please come prepared to transport your product with an insulated bag and ice packs. We carry ice and do our best to pack purchase for short travel, but you should not count on us to package your product for you. We do appreciate feedback on our products. Please call if you would like to leave a comment about your purchase or let us know that something was not right. We will log your feedback and address the issue as quickly as possible.
---
What's up with your loyalty program?
---
We just started a customer loyalty program to show our loyal customers how much we appreciate them. Our loyalty program is simple. Sign up in the market by giving your email to the cashier. You'll start earning points that day! Each dollar is worth one point and each point is redeemable for 10 cents. You must accumulate 50 points before you can start using them for discounts on seafood. After you sign up, you should receive an email confirming your subscription to our program. If you used a credit card you will receive an additional email asking if you would like to verify your card. This allows you to redeem points every time you come in and use that card. Otherwise, please notify your cashier at purchase that you are a part of the Hunter's Crabs and Seafood loyalty program. At this time, all seafood is eligible for points. You can only sign up in store with a valid purchase. We reserve the right to revise our loyalty program as we see fit with at least 30 days notice.
---
Do you offer a cooked menu?
---
Our cooked food options are limited to steaming only.
---
What type of crab seasoning do you use?
---
We use J.O. Seasoning #2 for our crabs. Many people prefer Old Bay seasoning for crabs, but we stopped using that brand because Old Bay removed rock salt from their recipe. We find that a coarse salt is essential for steaming crabs.
---
How should I transport raw seafood?
---
We recommend that you come prepared with an insulated bag and ice packs when transporting raw seafood. Seafood is highly perishable and extremely temperature sensitive, so even 20 minutes without proper packaging can ruin your product. We do our best to pack your seafood for travel, but we do not have the supplies available to pack everyone's seafood for long travel.
---
How should I transport steamed seafood?
---
We are more than happy to steam your seafood for you, but there are some things you should know before transporting steamed seafood. Firstly, you need to provide an outlet for the steam to escape. Freshly steamed seafood will continue to let off excess steam for about 15-20 minutes. Therefore, you need to allow your bag to ventilate so that your seafood doesn't keep cooking. Secondly, steamed seafood can release a lot of excess moisture and juices, so we recommend bringing something to sit your seafood. Steamed seafood is notorious for leaving a not so pleasant after smell in cars long after the seafood is gone.
---
How do I shuck an oyster?
---
Shucking oysters is one of those things that is easier to show you rather then tell you. If shucking oysters looks like a lot more work than you're ready for then try our shucked oysters. We shuck in house everyday during Maryland oyster season!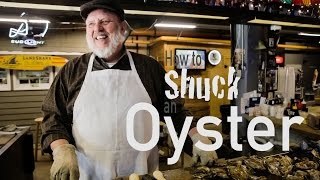 ---
Where can I learn more about seafood?
---
If you're looking for more information on seafood don't hesitate to give us a call! We would be happy to inform you on our latest offerings or even give you some of our favorite recipes. Also, check our blog! We frequently update it with delicious recipes and tales from the Bay.
---
---